1.80 cts Genuine Natural Wild Tridacna Clam Pearl 7.02 mm Extremely Rare 0.36 g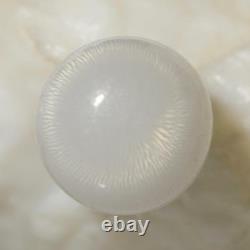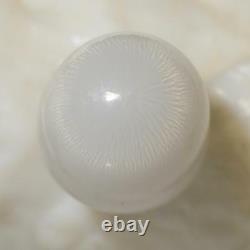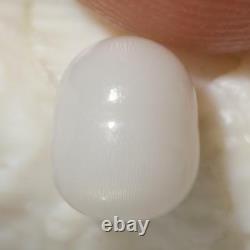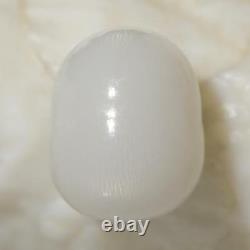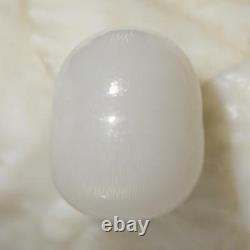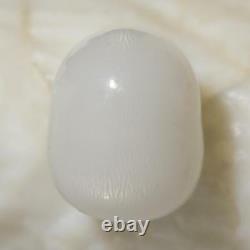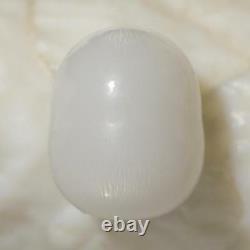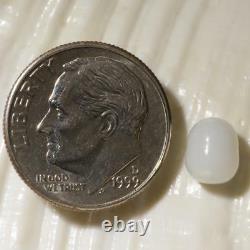 EXTREMELY RARE CREAM NATURAL WILD TRIDACNA CLAM PEARL SUMBAWA INDONESIA. Natural Wild Tridacna Clam Pearl.
The Indonesian name for this type of natural wild pearl is Kima. This is NOT a cultured pearl.
All photos are taken from the actual item. Unique feature of this pearl.
This natural wild pearl has a beautiful flame pattern on all of the pearls body with a has a great jewelry potential shape. 0.36 grams = 1.80 cts. Full / solid non-nacreous pearl. Bright porcellaneous translucent white and slightly grayish white body.
A light cream and slightly grayish silky glow. Excellent this natural pearl shows a beautiful flame-like pattern in good light conditions chatoyancy. This is caused by the light interaction on the pearls surface (strong light is needed). There is no nacreous effect, as clam pearls are not composed of nacre.
It has a porcellaneous appearance instead. Like nacreous pearls, clam pearls are made up of calcium carbonate micro crystals within an organic matrix.
However, the micro-crystals are not hexagonal platelets (which cr4eates the iridescent effect), they are fibrous prismatic crystals arranged perpendicularly to the surface of the pearl. The light passing from one fibre to another gives a shimmering effect known as flame structure. This flame-like pattern is reminiscent of the optical effect of moiré silk. Found in the pristine tropical waters off the coast of the Island of Sumbawa / Indonesia. This pearl is not drilled.
We can not drill this pearl for you natural pearls should never be drilled. Natural Tridacna Clam Shell Pearl. Natural Pearl from the Tridacna Clam Shell. It's unusual for clams and mussels to produce pearls.
Only one in 5,000 clams forms a pearl, according to Tungsten Jewelry. When they do, the pearl is quite valuable. Clam-produced pearls are extremely rare and valuable.
They are considered treasured gems because they're so uncommon. Clams can form pearls because of their shells. A clam's shell has two half shells joined by a hinge, which is called bivalve. The shell holds the clam's soft body, a small foot, a gland and gills used to breathe.
Clams feed by continually opening and closing their shells to allow water to filter through. The water contains food for the clam. However, it's this feeding process that also makes the clam vulnerable to irritants, which enter the shell when it's opened. Irritants serve as the basis for a pearl to form.
It's a widely held belief that every grain of sand trapped in a mollusk's shell eventually becomes a pearl. Mollusks naturally filter sand out when they open and close. If they didn't, our oceans and bays would be loaded with mollusks producing pearls.
When an irritant, such as a piece of shell, parasite or some other particle enters the clam, it triggers a reaction. This reaction causes the clam to secrete multiple layers of a calcium carbonate-type substance, which coats the irritant. Over time, as more layers of secretion coat the irritant; a pearl forms.
Tridacna clam pearls are non-nacreous. The pearls do not have the luster and brilliance of nacreous pearls, but instead the matte-like appearance of porcelain, commonly referred to as porcellaneous.
From a biological point of view, a clam pearl is considered a kind of pearl, being the natural product of a shelled mollusk. However, from a gemological point of view, it is said to be a non-nacreous pearl, also known as a calcareous concretion, lacking the luster and iridescence of true pearls. Pearl formation is a defensive response to an irritant, which is covered by a nacre-like substance. Pearls have a matte-like luster of porcelain and are known as porcellaneous. They lack the luster and iridescence of nacreous pearls.
The nacre-like substance is made up of conchiolin and the crystalline form of calcium carbonate known as calcite. Is an Indonesian island, located in the middle of the Lesser Sunda Islands chain, with Lombok to the west, Flores to the east, and Sumba further to the southeast. It is in the province of West Nusa Tenggara. Lies within the Pacific Ring of Fire.
It is a volcanic island, including Mount Tambora which exploded in 1815, the most destructive volcanic eruption in modern history (roughly four times larger than the 1883 eruption of Krakatoa, between Java and Sumatra, in terms of volume of magma ejected). The eruption killed as many as 72,000. It also apparently destroyed a small culture of Southeast Asian affinity, known to archaeologists as the Tamboran kingdom. This is NOT a cultured pearl! This NATURAL Tridacna Clam Pearl is extremely rare. This pearl was found by local divers in the pristine tropical waters off the cost of the Island of Sumbawa. Dont miss this opportunity to own this exotic treasure as an investment for your private collection or to create your own spectacular jewelry. Our photographs have been enlarged to show details. Most details shown in the large image are actually not visible to the naked eye.
We have made the image as close as possible to the original item when viewed on our screen. Depending on the viewers monitor settings, these items may appear a few shades lighter or darker in comparison to the original object.
Items are guaranteed as described. SILVER 925 BEADS & FINDINGS. Auctiva offers Free Image Hosting and Editing. The item "1.80 cts Genuine Natural Wild Tridacna Clam Pearl 7.02 mm Extremely Rare 0.36 g" is in sale since Friday, July 17, 2020.
This item is in the category "Jewelry & Watches\Loose Diamonds & Gemstones\Loose Gemstones\Pearl". The seller is "agustus-collection" and is located in BALI - Island of the Gods. This item can be shipped worldwide.
Country of Origin: Indonesia
Modified Item: No
Country/Region of Manufacture: Indonesia
Natural/Lab-Created: Natural
Depth: 5.68 mm
Length: 7.02 mm
Width: 5.71 mm
Gemstone: Pearl
Type of Natural Wild Pearl: Tridacna Clam Pearl
Drilling: Undrilled
Cut Grade: Excellent
Color: Bright Porcelain White
Shape: Baroque oval
Quality: Excellent
Variety/Type: Natural Wild Pearl
Surface: Clean and Smooth
Gram Weight: 0.36 g
Transparency: Translucent
Treatment: None (No Enhancement)
Brand: Agustus-Collection
Total Carat Weight (TCW): 1.80 cts
Stone Treatment: None