Extremely Rare undescribed fossil Arthropleura species! Coal giant millipede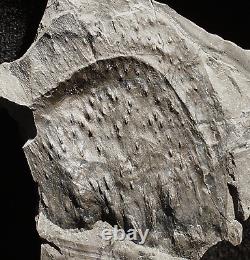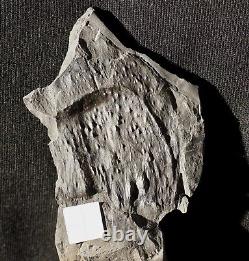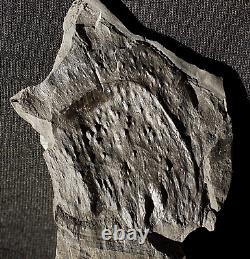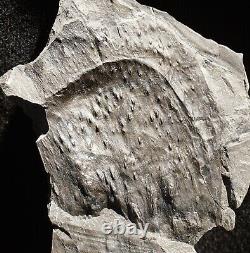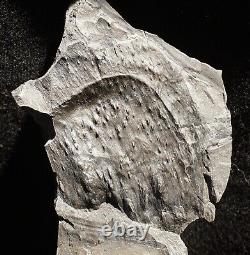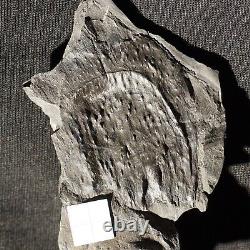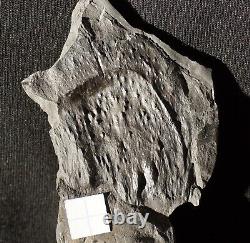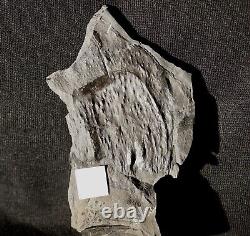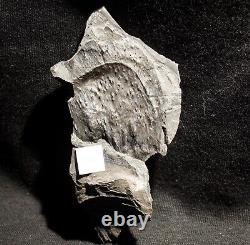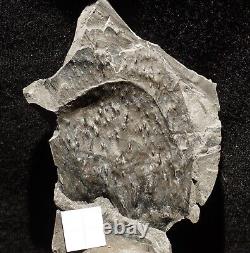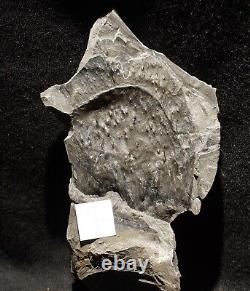 My specimens are genuine and will be delivered with a Certificate of authenticity, age and origin and scientific works copy described this species! I will send You a combine invoice. Pleural lob with very unusual shape & ornamentation!
All detailed data will be provided with the specimen. Upper Carboniferous - Pennsylvanian - Namurian B - Siodlowe beds. 9,0 x 4,5 x 1,5 cm (white square on last picture is 1,0 x 1,0 cm). Very beautiful, extremely rare undescribed species of famous giant Carboniferous monster millipede specimen!
The Arthropleura was a biggest arthropod of all time!! The most know Arthropleura species are european. 1959 know from Mazon Creek. Was largest know species reach more than 3m!
Is a genus of extinct. That lived in what is now North America. Stage of the lower Carboniferous period. The species of the genus are the largest known land.
Of all time, and would have had few, if any, predators. Grew to be 2.5 metres (8 ft 2 in) long. Up to 50 centimetres (20 in) wide have been found at.
In 2021 a fossil was reported, probably a shed. With an estimated width of 55 centimetres (22 in), length of 1.9 metres (6 ft 3 in) to 2.63 metres (8 ft 8 in) and body mass of 50 kg (110 lb). Was able to grow larger than modern arthropods, partly because of the greater. At that time and partly because of the lack of large.
Is characterized by a series of well-developed. Having three lobes like a. With dorsal surfaces covered by many tubercles. The head is almost unknown, as the anterior oval plate in front of the first trilobate tergite, which previous thought to be head shield, were considered to be a collum (first tergite of millipede trunk) by subsequent studies. Based on the discovery from other arthropleurids.
, the head may have had non-filamentous. Had a trilobate tergite number ranging from 28 to 32.
The alignment between leg and tergite is not well understood, but at least it is believed to have been diplopodous in some degree: two pairs of legs per tergite, like modern millipede. There were three pairs of ventral plates located around each leg pair, namely K-, B- and rosette plates, and either the B- or K-plates were thought to be. The body terminated with a trapezoidal. The good preservation of its thin exuviae, buttressing plates around the leg base, and evidence of 3 cm deep. Altogether suggests that they had a sturdy. Was once thought to have lived mainly in. However, it probably lived a forest-independent life, as fossils of the trackway were found in more open areas and fossils were found even after the. There is no solid evidence for the diet of. As the fossils that were once considered. Are later considered to be merely coexistence of plant fossils and exuvia remains. Nonetheless, the interpretation of a. Diet is still accepted, and it is estimated that.
May have eaten not only spores but also. Based on its enormous size that possibly required lots of nutrition.
Specimens are found in the upper Paleozoic sediments - but only isolated armour segments in pieces. Whole specimens are extremely rare.
Arthropleuridea was a class of arthropods that flourished during the Carboniferous period. Members are defined by diplosomy, paranotal tergal lobes separated from the axis by a suture, and by sclerotized plates buttressing the leg insertions. Despite their unique features, recent phylogenetic research suggests that Arthropleuridea may be included among millipedes. The class contains three recognized orders, each with a single genus.
Arthropleurids had about 30 pairs of legs, whose tracks have been found in the Joggins deposit in Nova Scotia, Canada. Arthropleuridea is most famous for order Arthropleurida. Over 2 meters in length, arthropleurids are among the largest arthropods ever to have lived. The lack of large terrestrial vertebrate predators and the highly oxygenic atmosphere at that time probably enabled them to grow so large.
Arthropleurids lived in the moist coal swamps that were common at the time and may have burrowed in the undergrowth. They were either herbivores or detritivores. Besides their size, their most distinguishing features were their legs with eight segments (as many as 30 pairs) and extremely tough exoskeletons. There is no evidence of spiracles, so the animals must have used lungs or gills for respiration.
Arthropleurids became extinct as the climate became drier and the coal swamps dried out. Up to 50 cm wide have been found at Joggins, Nova Scotia. Most arthropleurids are thought to have been terrestrial, although, without any known respiratory structure, terrestriality is assumed only by analogy to modern arthropods.
Early forms, however, including order Eoarthropleurida, appear to have been aquatic. For this reason, some question Arthropleuridea's inclusion among millipedes because no modern aquatic myriapods are known. Eoarthropleurida has been found from the Upper Silurian through the Upper Devonian of Europe and North America. An amazing opportunity to get something extremely rare... This item is in the category "Collectibles\Rocks, Fossils & Minerals\Fossils\Arthropods\Other Arthropod Fossils".
The seller is "paleobotanica_com" and is located in this country: PL. This item can be shipped worldwide.