WOW EXTREMELY RARE Kettenkrad Diorama Carentan 1944 17638 BNIB 132 W. Britain's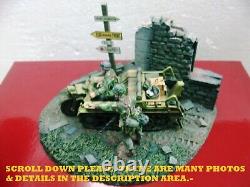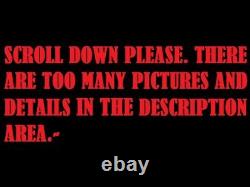 A fter 16 years of storage it's up for sale!! S ealed -Brand New in Box (BNIB)- Virgin!!
No hidden charges at the checkout. 1 : 32 William Britain 17638 Kettenkrad Sd. Kfz 2 Diorama with wall & two Fallschirm jagers 3. Camouflaged Battle of Carentan 1944 In a superb late war summer camouflaged scheme. The SdKfz 2 , better known as the Kleines Kettenkraftrad HK 101 or Kettenkrad for short (Ketten=chain/tracks , krad=military abbreviation of the German word Kraft rad, the administrative German term for motorcycle), started its life as a light trac tor for airborne troops. The vehicle was designed to be delivered by Junkers Ju 52 aircraft , though not by parachute. The vehicle had the advantage of being the only gun-tractor small enough to fit inside the hold of the Junkers and was the lightest mass produced German military vehicle t use the complex Schachtellaufwerk over lapped and interleaved road wheels used on almost all German military half - track vehicles of World War II.
Limited Edition to 800 pcs Worldwide Excellent for use with K&C , New Model Army Jenkins , Honour Bound , Conte , Forces of Valor. The model has been discontinued for many years & now is Extremely Rare. It's Mint Brand New with original packaging, Untouched, Sealed from the Factory!!! I've checked the Model.
I photograph the Models before packing. Sorry about that but I have been a Victim of these Scammers many times in the past.
Neuzustand in Original Verpackung (OVP)-Mint in Box (MIB) - Sammler Modell - Wurde noch nie aus der Verpackung genommen-Never Displayed or Opened - Raritat!!! It's not from my private collection.
It' s an item from the warehouse of a diecast store Brand New, in Unopened and Untouchable condition!!! Es ist nicht von meiner Privatsammlung. Dieser Artikel ist vom Warenhaus eines Die cast Geschaeft.
Brandneu, in ungeoeffnet, unbenutzter Zustand!!! Viel Glueck und Vielen Dank!!! Good Luck and Thanks a lot!!